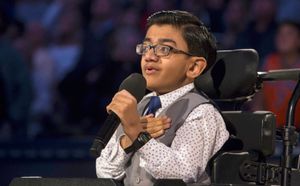 Bio
Sparsh Shah (a.k.a Purhythm) is a 20-year-old prodigy, singer, songwriter, rapper, inspirational speaker, philanthropist and Guinness World Records holder. He was born with an incurable disease called Osteogenesis Imperfecta, which makes his bones extremely fragile/brittle, due to which even a hard handshake can break his bones. He cannot bear weight on his hands and legs, and hence cannot walk or run like other normal kids. He had more than 140 fractures and multiple rod surgeries (8 rods and 22 screws in his body) so far in 18 years of his life and God knows how many more are yet to come. But God has gifted him with a divine voice and a brilliant mind. Sparsh has won prizes in 9 singing competitions and done over 300 live performances in 9 countries and at prestigious venues such as Madison Square Garden, Radio City Music Hall, Prudential Center, Metlife Stadium, CitiField, NRG Stadium, National Center of Performing Arts, CosmoCaxia Barcelona, etc. 
Sparsh is an Internet sensation; he has performed in front of a billion people (twice) through television and the internet. He has amassed over 300 million views on all social media platforms and is now followed in 150+ countries around the world. He was ranked as one of the top 10 child prodigies of Indian origin that make us swell with pride by Yahoo!
Sparsh has appeared on several radio and television shows such as World's Greatest Motivators, NBC: Little Big Shots USA, George To The Rescue (Nominated for NY Emmy Award), TODAY Show, The Maury Show; iTV: Little Big Shots UK; BBC; WABC; WGN TV; RTL TV; NOS Jeudgjournaal TV, TOCA BOCA TV, NDTV, Daily Blast Live TV show, SONY TV: Kaun Banega Crorepati (This TV show was aired in 190+ countries and watched by a billion people), Keys To Kismat, TV Asia: Focus Live, Doordarshan TV: In Conversation With, etc.
Sparsh has hosted several shows as an MC/keynote speaker and has delivered inspirational speeches at TEDx Gateway (4 times), United Nations (2 times), Google, Microsoft, Johnson& Johnson (3 times), Infosys (20K audience), Cisco (2 times), Walmart, Accenture, VMalaysia (20K audience), NBA Preseason Referee Meet, World Summit on Innovation & Entrepreneurship, Deloitte, Oppenheimer Funds, Comfort Company, Horizon BCBSNJ, Aditya Birla Capital (18K audience), Driven by Suzanne Evans, CIF Higher Education Forum, Vraj Walkathon, iCAN Summit, GOAFEST, MOCAAPI Gala, RAJMAAI, Hindi USA Mahotsav, JAINA, Gujarati Unity Festival, BEST 2020 Youth Leadership Empowerment Conference, The HR Congress, VOSAP Gala, and many more events/organizations. 
Sparsh has also performed pro bono and helped raise over 2.0 million dollars for various non-profit organizations supporting children and adults in need. Sparsh has been the recipient of various prestigious awards such as "In the Limelight" Rebranding Disability Through Achievement, Danny Music Award, International Youngest Achiever, Global Indian Award, Champion of Hope, Champion of Inclusion, Junior Phenom Award, Special Achievements Award, Inspiration Award of Excellence, Most Inspiring Individual Award, YONO SBI 20 Under 20 "Global Indian - Male" Award and many more.
Sparsh's vision in life is to inspire and "Sparsh" (touch) everyone's hearts around the world.