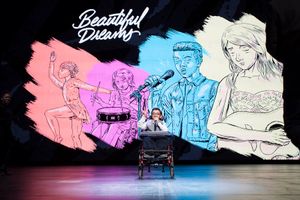 Philanthropy
When I was little, my parents always told me that money and fame are only the byproducts of success; the true measure of success is what you do for others. And though I've been blessed to use my musical and motivational platforms to inspire billions of people throughout the world, I've always burned with the desire to truly SERVE the world and those who have been thrusted into its margins, because I know that not everyone has the same privileges I've been given in life. After all, I truly believe that the greatest leaders on Earth are the servants of everyone.
Hence, since the day I first set wheel on stage, I've endeavored constantly to use my platform not just to inspire, but also uplift those in need. I've done this in two ways: advocacy and fundraising. I've been blessed to be chosen as Youth Ambassador for several philanthropic organizations, such as the Voice of Specially-Abled People (VOSAP), the Mission Possible Foundation, Smart Village Foundation, and St. Jude Children's Research Hospital. I've also been a catalyst in helping to raise over 2 million USD for various philanthropic organizations by performing and participating in their fundraisers, such as:
The Garden of Dreams Foundation
The Encourage Kids Foundation
The Joey Logano Foundation
The New Jersey Institute for Disabilities (NJID)
The Share and Care Foundation
The Sankara Eye Foundation
The South Asian American Community Outreach (SAACO)
CRY America, Inc.
Enable, Inc.
March of Dimes
Heart and Hand for the Handicapped
Care4Brittle Bones
Ronald McDonald House Charities
Narayan Seva Sansthan (NSS)
Rotary International
India Inclusion Summit
Akshaya Patra Foundation
I've also performed and participated in fundraisers for the victims of the Nepal earthquake and Chennai floods, and rare diseases like Fibrodysplasia Ossificans Progressiva (FOP). I have served the community in other ways besides fundraising as well, such as through literacy drives for orphanages in Guyana, and through volunteer work in my high school's chapter of the National Honor Society (NHS).
All that being said, the greatest joy for me is being able to positively impact the lives of others in a personal and profound way, no matter which organization I have the opportunity to serve. It is this joy that keeps me grounded in humility throughout my evolution as a person, and it is the driving force behind my goal to bring to fruition the words of Muhammad Ali in my life: "Service to others is the rent you pay for your room here on Earth."